Guinness Brewing Company was born 261 years ago at St. James's Gate in Dublin, Ireland. A dark Irish dry stout was created in the brewery of Arthur Guinness, a man known for his philanthropy, his penchant for taking care of his workers, and his innovation. From the beginning, quality and excellence have characterized the company and its employees. With five generations of Guinness fathers and sons managing and fine tuning the Guinness brand, all the while maintaining the high standard and values set forth by Arthur, the company flourished. Today, the Guinness brand and its iconic logo are known and regarded fondly around the globe. Taking into account the rugby community's affection for beer, it is not surprising that Guinness eventually became ingrained in both the sport and the rugby culture.
1759 - Arthur Guinness, who came from a family of brewers, rented an unused four-acre brewery at St. James's Gate in Dublin with a 9000 year lease at £45 a year that included free access to a water supply.
Guinness started his beer company by brewing an ale.
1769 - Guinness began exporting the beer to England.
1770's - Guinness begins brewing a porter, an English beer originally brewed in London in 1722.
1796-1815 Log books recorded daily Guinness innovations. They included recipes for every batch of porter made. Log books show that though this period in history was marked by adversity, (including the Napoleonic Wars, two uprisings in Ireland, and the Act of Union) Guinness continued to expand with new products. Today, the original recipes are still used to develop current products - one of them being the foundation for the new Guinness Dublin Porter.
1794 - Guinness published their first ad in a newspaper. Since, the company has been at the forefront of marketing with many iconic, entertaining ads that are still recognized today…
From one of the earliest, "Guinness is good for you," to today's, "Made of More" slogan, Guinness is a global leader in marketing. Their TV ads have been strong favorites of the viewing audience for the last half century.
1799 - On April 22, the Dublin Ale was brewed for the last time so that brewers could produce more of the increasingly popular stout.
1820s - Guinness's export trade expands to more distant destinations including New York and South Carolina, USA.
1830s - St. James's Gate Brewery is the largest in Ireland.
1862 - The harp, along with Arthur Guinness's signature, made its first appearance on a Guinness beer label.
1876 - the harp log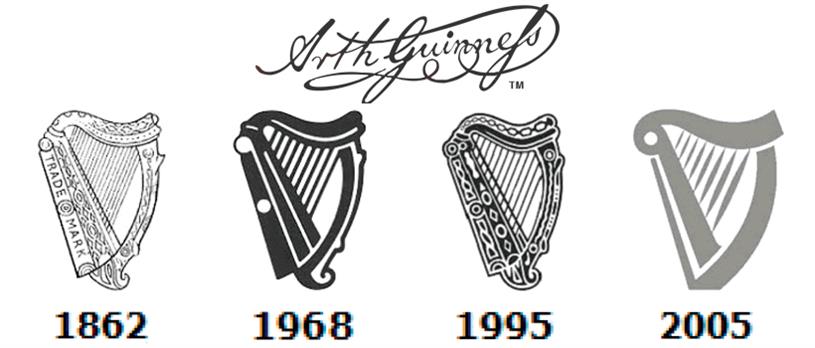 o, which is a symbol of the beer's Irish roots, is registered in the trademark office. Guinness agreed to face their harp to the right, so that the Irish government can trademark a left facing harp, seen on the Irish coat of arms, as the state symbol. The Guinness branding was initiated partially to prevent corrupt bottling companies from tampering with the product or using an inferior product and passing it off as Guinness.
Late 1800s - Guinness is the first brewing company to employ scientists to refine their product - Thomas Bennett Case and Alexander Forbes Watson.
1870 - Guinness established a medical centre for staff and their families (beginning a series of measures that were unprecedented and worker-friendly.)
1880s - Guinness introduces a pension for its workers. Nearby clean, affordable housing is also provided for staff.
1886 - Guinness is now the largest brewing company in the world and becomes the first major brewery to be incorporated. Edward Guinness (4th generation Guinness to run the company) becomes Chairman. This chair position remains in the Guinness family until 1986.
1928 - Guinness becomes one of the first companies to give employee benefits. These included on-site medical and dental care as well as 2 free pints after every shift. The company also paid its employees 20 percent more than other brewers and gave them full pensions.
Because of the company's quality treatment of its employees, generations of families have worked for Guinness.
1929 - Guinness diverts from relying solely on quality and good reputation and hires S.H. Benson Limited to launch its first advertising campaign.
1930s and 1940s - S.H. Benson advertising develops Guinness's memorable advertisements with slogans such as, "Lovely Day for a Guinness", "Guinness for Strength", "Guinness Makes you Strong", "My goodness My Guinness" and "Guinness is Good for You."

Posters, primarily drawn by artist John Gilroy mostly featured animals including the iconic Toucan which today is just as much a symbol of Guinness as the harp.
1936 - First overseas Guinness brewery is built in Park Royal in London.
1950s Fun Fact - Sir Hugh Beaver, Managing Director of the Guinness Brewery, attends a hunting party and argues with friends about the fastest game bird in Europe. No answer was found as there was no reference book.
1954 - Sir Hugh Beaver decides to create a reference book of facts and figures to settle pub debates. With the help of 2 fact-finding researchers, Ross and Norris McWhirter, and over 1,215 hours of writing, Beaver stamped the Guinness name and Harp trademark on the initial Guinness Book of Records. Sir Hugh handed the book out free of charge in pubs to settle bets.
The book is still a best seller today, and though it has no further connection to the Guinness Brewing Company, it does hold many Rugby World Records.
Sir Hugh Beaver, 1st Guinness Book of Records, Ross & Norris McWhirter, Norris McWhirter
1959 - Guinness hires mathematician and brewer, Michael Ash, who infuses nitrogen and carbon dioxide into the Guinness Draught to give it a "surge and settle' effect and its smooth and creamy finish. Thus, creating the first nitro beer.
1988 - New technology in beer packaging called a "widget" allowed for the launch of Guinness Draught in Can, bringing the beer into homes for the first time.
1997 - The Guinness Company is bought by Diageo, an entity created by the merger of two companies. The name is derived from Latin and Greek words meaning "day" and "world", fitting, as the brand is enjoyed by millions of people "every day, around the world."

2014 - St. James Gate adds Brewhouse 4 which is the largest stout brewery in the world as well as the most "technologically advanced and environmentally sustainable".
2016 - Guinness is named Ireland's "most appealing" sponsor, but it's appeal reaches far beyond Ireland's borders.
Most notably, the Guinness company has a large presence in the sport of Rugby.
Though the company has been a rugby sponsor at many levels since the early years of sponsorship, its larger partners today include rugby associations from England, Scotland, Wales and Ireland. Guinness also has a sponsorship deal with the Pro 14 which includes teams from Ireland, Scotland, Wales and Italy.
2018 - Guinness becomes the title sponsor of the Six Nations Tournament.
The Guinness company states that its aim is to "ensure fans have an epic match day experience."
Surely, the rugby community will be excited about this as well as the company's use of big pop-up bars showcasing the brand.
Today, Guinness beer is brewed in 50 countries and available in over 150, making its brand far-reaching and one of the most successful alcohol brands in the world.
Resources:
https://www.guinness-storehouse.com/content/pdf/archive-factsheets/general-history/company-history.pdf
https://en.wikipedia.org/wiki/Guinness
https://en.wikipedia.org/wiki/Guinness_Brewery

https://www.irishtimes.com/business/innovation/the-peculiar-story-of-rugby-and-the-guinness-logo-1.3787059

https://www.sixnationsrugby.com/partner/guinness/

https://www.sportbusiness.com/2019/02/guinness-aims-to-become-worlds-number-one-rugby-brand-with-six-nations-title-sponsorship/

https://www.morningadvertiser.co.uk/Article/2017/11/08/Guinness-strengthens-ties-with-English-rugby-union

https://www.irishcentral.com/culture/food-drink/nine-reasons-why-guinness-is-the-most-underrated-beer

https://www.irishcentral.com/roots/history/facts-arthur-guinness
https://www.mentalfloss.com/article/69224/slainte-16-delicious-facts-about-guinness
https://www.irishtimes.com/sponsored/in-pursuit-of-more/guinness-turns-to-history-for-inspiration-1.1982162
https://tandempartnerships.com/category-analysis-beer-sponsorship/
https://www.campaignlive.co.uk/article/diageo-sponsorship-action/1431182
https://www.sponsorship.com/IEGSR/2015/09/14/The-Most-Active-Companies-And-Categories-Sponsorin.aspx